Mzansi Trending
A prophet who foresaw Riky Rick's death predicted deadly sickness that would kill within hours 
Mellontik Orasi, a Zimbabwean prophet based in South Africa, has sparked outrage on social media after it was revealed that he "accurately predicted" Jamie Bartlett's death. In a cryptic Facebook post, Dr Prophet Mellontik Orasi predicted the death of a male celebrity. He stated that if the star is not prayed for, he will perish.
The Prophet is back with another prophecy, and this time it will affect everyone if it comes true. He urged people to pray that it never comes to pass because many people might lose their lives.
In his Facebook post, he wrote that he sees a disease coming to humankind and that it will be deadly. "2022-2023 December, a sickness will arise, blood and froth will come out of the mouths of people, and they will die in a few hours." "Pray, I am standing exactly in the future," he concluded.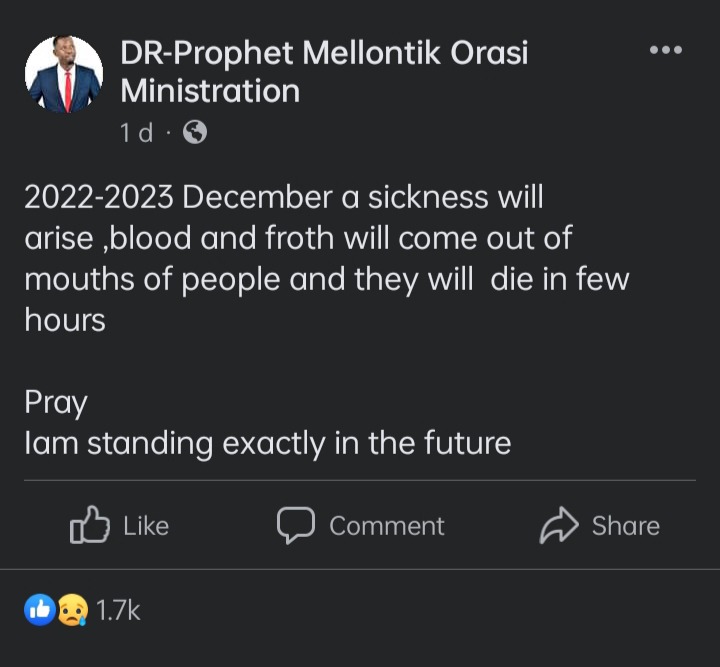 Below are the comments from people on Facebook, sharing their views and prayers.
May the good Lord protect us in Jesus' Mighty Name. Cover our families, Lord, with the precious blood of Jesus Christ. In his mighty name, we destroy every evil plan of the enemy. No weapon fashioned against us will prosper. Your children will ever prosper in Jesus' Mighty Name. Let your will be done, Lord.
Oh, Heavenly Father, full of grace. Please protect us all. Protect my family. Keep us safe. Cover us with your blood. In the mighty name of Jesus, our Saviour, no sickness shall touch me and my loved ones.
Lord, please protect everyone in this whole world. No sickness is greater than your name. This is scary. May God protect me and my entire family in the mighty name of Jesus.
Abraham, Isaac, and Jacob's God is Merciful. May you continue to protect me, my family, and my beloved ones. May you remove every affliction from our lives. In the Precious Blood of Jesus, every spirit of sickness will never be our portion in Jesus' Mighty Name. I pray Amen.
In Jesus' Mighty name, Amen, no sickness shall touch me or my family.