Mnangagwa Says Zimbabwe Co-owns Kazungula Bridge, Botswana Issues Statement
President Emmerson Mnangagwa has said Zimbabwe co-owns Kazungula Bridge together with Zambia and Botswana. He said the road and rail bridge over the Zambezi River between Zambia and Botswana at Kazungula will be commissioned this month. He said the Bridge was initially a three-nation bridge but later belonged to Zambia and Botswana only adding that Zimbabwe is back on board now.
Mnangagwa Says Zimbabwe Co-owns Kazungula Bridge, Botswana Issues Statement
There have been reports that Zimbabwe is set to be the loser if the bridge is completed as it provides an alternative to motorists who have for long been using the Beitbridge Border to gain entry into the SADC or vice versa.
Intentions to construct the bridge were announced in 2007. In 2011, an AFDB report observed that the bridge was designed as an extra-dosed road-rail bridge configuration with middle deck sections of 129m, and 4 piers in the river, with a total length of 923m.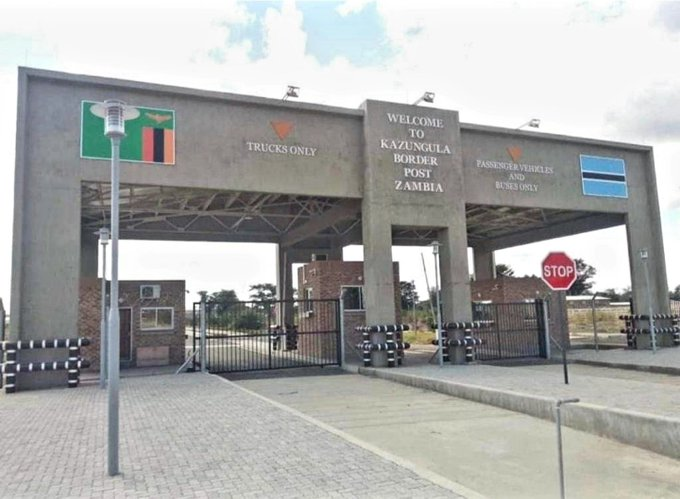 The report also noted that Kazungula Bridge would follow a curved alignment layout to avoid the border area in the Zambezi waters between Botswana and Zimbabwe, where the exact border positions have not been ratified.
Watch the video below for more.
The government of Botswana has spoken on the soon to be launched Kazungula Bridge which it co-owns with Zambia. We present Botswana's Twitter thread below.
1. Package 1 is the bridge, which is designed as an extra-dosed road-rail bridge to accommodate a future railway line which will link Mosetse-Kazungula in Botswana to Kazungula-Livingstone in Zambia.
(Single carriageway for motor vehicles, single railway track & pedestrian walkways on both sides). The Bridge has specifications of length 18.5m width and span arrangement of 923m. This package also includes an approach road on the Botswana side of 302m and 416m on the Zambia side
2. Packages 2 and 3 are the One-Stop-Border Post (OSBP) facilities on the Botswana and Zambia side respectively.
Each package consists of among others, a passenger terminal, vehicle inspection building, freight inspection building, truck transit offices (entry and exit), health inspection building and veterinary offices.
The packages also caters for internal circulation roads and car parking facilities for buses, trucks and light motor vehicles as well as access roads to the new border posts.
Funding • The construction supervision was awarded to the Kazungula Bridge Consultants-Joint Venture comprising of Nippon Koei Co. Ltd., Chodai Co. Ltd., Gibb (Pty) Ltd, Bothakga Burrow Botswana (Pty) Ltd, CPP Botswana (Pty) Ltd and Zulu Burrow Development Consultants Ltd at a cost of USD 15, 726, 755.00 funded by JICA.
• Package 1: funded by both Governments of Botswana and Zambia on 50% basis.
The contract was awarded to Daewoo Engineering and Construction at an original sum of USD 161 961 304.84 which has been revised to USD 174 184 799.54 to incorporate 16% VAT component from the Government of the Republic of Zambia.• Package 2, One-Stop Border Post Botswana was funded by JICA exclusive of VAT while the Botswana Government funded the VAT component. The contract was awarded to Zhong Gan Engineering & Construction at a cost of BWP 440, 116, 275.30.
• Package 3, One-Stop Border Post Zambia is funded by AfDB. The Contract was awarded to Anhui Foreign Economic Construction Group Co. Ltd at a cost of ZMW 263, 670, 419.98.
Mnangagwa Says Zimbabwe Co-owns Kazungula Bridge, Botswana Issues Statement